BIOG - KATIE HAMMOND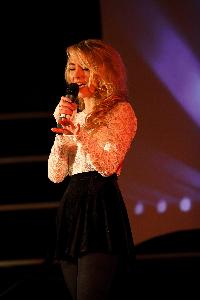 A keen singer since the age of 9: Katie is now 14 and has a musical interest in 'R&B' soul! Katie is also a musical theatre student and is never camera shy...........
Katie just loves performing!!!!!!!
Since reaching the National Open Mic Final in January 2013, Katie has continued to evolve as a singer, performer and musician, studying both the guitar and keyboards as well as performing in local theatre productions.
During this time she has also been working in collaboration with Reybridge Records; spending time in the studio producing some of her favourite covers and most excitingly, working on an original song "Come Fly With Me" written by Ray Humphries and produced by Reybridge Records; soon to be released.
Following the release of her first single with Reybridge Records, Katie is very much looking forward to collaborating further with Reybridge Records on her own song writing.
Watch out for her new release coming soon on Reybridge Records!!!!!